October 5th, 2007 by Jordan
I thought I would continue the water bottle article with a slight offshoot just briefly mentioned. Flavor Packets. Flavor Packets are the newest additions to my pack while traveling. Drinking water saves a lot of money, and when you get tired of plain old water, it helps to have a low cost alternative available wherever you go. In addition to cost, it's never a bad idea to lay off the soft drinks and chug the agua. That's where these flavor packets come in handy.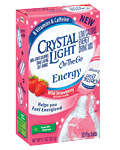 The typical flavor packet can be used for about 12-20 ounces of water, depending on how strong you want it. A few different companies make these flavor packets and the number of flavors has dramatically increased.
Crystal Light is kind of leading the way with marketing, and at last check they had 12 flavors available. Great Value also makes a cheaper alternative. Kool-Aid and Lipton are also just entering the market as well. Lipton seems to be pushing their green tea, which I have yet to try. Kool-aid obviously has kid friendly flavors such as tropical punch, cherry, grape, and orange. Actually, when you think about it, Kool-Aid has been doing this for years, now, they just put it in a smaller packet and call them singles. Airborne is a new provider as well, trying to corner the immune conscience consumer, and marketing it as a dietary supplement.
I added these to the packing list because they almost force me to drink more water, which saves money, and they are so small and can pack anywhere with no problem or worry about additional weight. The downside I suppose would be the cost, I just know that buying things in smaller quantities is never a good value. So, for the extreme shoe-string budget traveler, think about buying a larger supply, or see what's available in your kitchen, and instead of individual packets, dump the powder in a 35mm film case. Those hard plastic, well sealed containers are small and sturdy and can probably hold the equivalent of 3-5 flavor individual flavor packets.