April 16th, 2008 by Jordan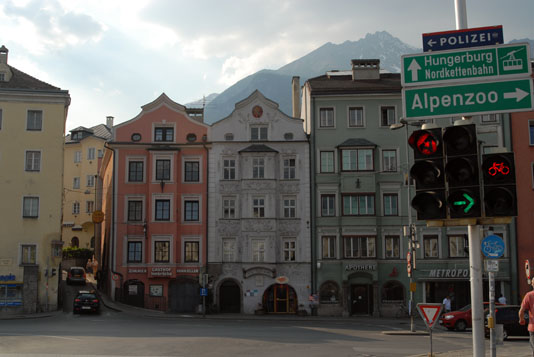 Backpacking in a foreign country generally requires you to do a lot of walking.  These tips will help you get the most of your time on foot.
Do not put money or valuables in back pockets.  Front pockets are a little safer, but still not encouraged.  Most likely, you are going to be pegged as a tourist, so just try not to act like one by having your rectangular shaped wallet hang halfway out of your back pocket like at home.  It will get picked.
Walk up hill to start when you start exploring.  If you are just out to see the city, and have no particular place to go, walk up hill in the mornings.  This does two things.  First, it allows you to have downhill walks when you're tired at the end of the day.  The second advantage is that it gives you another sense of direction.  You know you were at an intersection, but you forgot which way you turned?  If you always choose uphill, you can find your way back by simply going downhill.
When you see a street vendor, purchase their food.  This is an unwritten rule while I travel.  I want to experience the food the locals eat, and anytime I see a street cart selling food, I purchase something.  It's always cheap and most of the time it's better than overpriced tourist lunch specials.
Avoid wearing sandals or flip-flops in busy and dangerous areas, you may need to make a quick getaway or run to avoid getting hit by a bus.  I learned this the hard way in Amsterdam.  Walking around in sandals and not paying attention to the fact I was standing over train tracks, I had to quickly get out of the way, but my sandal came off easily and I had to hop away in one sandal and one bare foot.
Try not to use a map, and if you must, make sure it's small.  Nothing pegs you like a tourist more than unfolding the giant map.  Don't be afraid to get lost, ditch the map and ask a local if you need directions.
Unless you are a serious photographer, take a camera small enough to carry in a front pocket or small travel bag.  You will get fewer people staring at your all the time.
Find a bench in a crowded park and observe.  The theory behind travel is to see and experience the culture.  Don't get so caught up with an itinerary that you forget to observe.
Talk to as many locals as you can.  They always have the best advice on food, hotspots and shortcuts.  You will always learn something you didn't know.
When you find a city loaded with street traffic, and you need to cross the street, most likely there isn't going to be any form of an organized crosswalk.  So in order to dodge the Vespas and dented cars, walk with confidence, most importantly do not hesitate as drivers will not purposely run you over.  Generally, I just aim for the back bumper of a car, if I can do that, then it gives the car behind him the most time to react to my crossing and not run me over.
Relax and enjoy the experience.  So many "tourists" get caught up trying to do too much and see too many sites.  Find a good bar and have a relaxing drink for two or three hours. Backpackers know this.