February 21st, 2010 by Jordan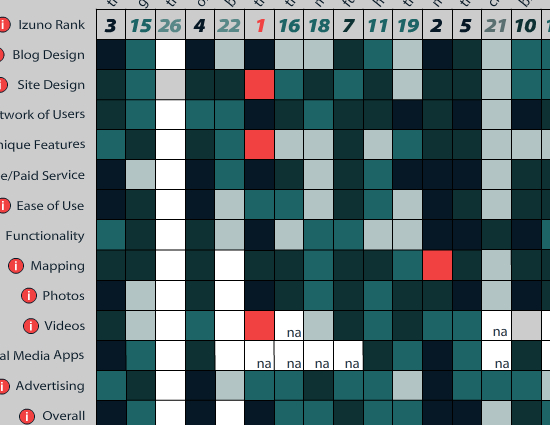 So after two years and numerous comments (that I still get) I have revamped the Travel Journal Review for 2010.  This has been one of my most popular posts, so I sat down and completed the task.  There are a total of 26 online travel journal/travel blog sites that I evaluated and ranked in my favorite order.  Based on numerous categories hopefully this will help you decide which online journal you wish to use for yourself.  Be assured I do not claim that this is 100% accurate or perfect.  I spent 8 days registering, evaluating, and ranking these sites, and everything was starting to look like the same toward the end.  Nevertheless, in order to be as accurate as possible, if you feel something is entirely wrong just send me an email ([email protected]).  You can read more about the sites and ranking by clicking on the salmon colored "i" circle.
Click here for the 2010 Izuno Travel Journal Review
Izuno Ranking (please note this is just my personal opinion…nothing more)
1. TravellersPoint.com (very powerful, do everything and more with this site, great travel content)
2. MapVivo.com (very cool mapping)
3. TravelPod.com (great usability)
4. OffExploring.com (I found very fun)
5. TravBuddy.com (great social network for meeting other travelers)
6. GoAbroad.net
7. FuzzyTravel.com
8. RealTravel.com
9. MyLifeOfTravel.com
10. Blogs.StaTravel.com
11. HostelWorld.com
12. Traveloblog.com
13. TripnTale.com
14. TravelJournal.net
15. GetJealous.com
16. TravelJournals.net
17. NomadicJournals.com
18. MyTripJournal.com
19. TravelBlog.org
20. TripDiary.com
21. CheckOutMyTrip.com
22. BootsnAll.com
23. TripsLog.com
24. TravelBlogr.com
25. FootStops.com
26. TravelPost.com
Click here for the original 2008 Travel Journal Review (now outdated of course).