January 31st, 2010 by Jordan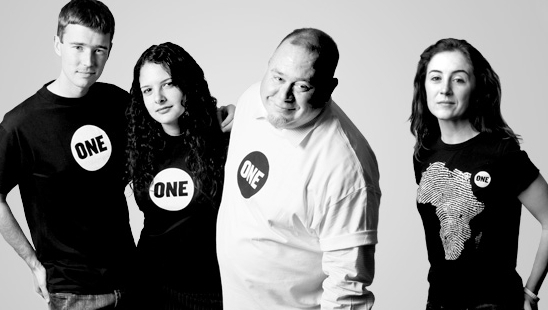 One.org.  I find this picture quite intriguing.  I'm picturing the marketing dept. for the organization at a table in a high rise New York building saying "we want to be Abercrombie yet…multi-dimensional."  That at least explains why the guy in white does not fit in to your traditional marketing techniques.  I like that guy in white.  I like how they made him stand out.  That guy is my kind of guy…2 to 1 he's got a better story than the two to his right.
Anyways.  One.org is a non-profit (with Bono attached to it) that wants to end poverty.  Attached with Africa in many ways, they tackle poverty issues in various places and has the reach to do it.  In fact I just purchased 10 'One' bracelets.  I feel that education helps solve problems later, so they've sold me by bringing up that point on their site.  It's the whole 'give a man a fish' argument.  One.org seems to understand that.